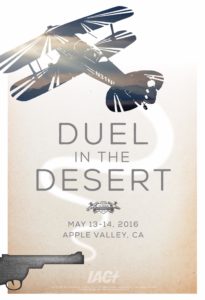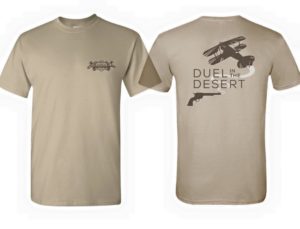 Los Angles Aerobatic Club IAC Chapter 49 is hosting the Duel In The Desert Aerobatic Contest, at the Apple Valley Airport, (APV).
The contest will fly Primary through Unlimited. Registration/ Practice day is Thursday May 12th, Contest Briefing at 7:00 AM Friday May 13th, 2016. Please preregister at the IAC Contest Registration Web Site. http://www.iacusn.org/acrs/index.php.
Registration fee is FREE for first time competitors!
Barrett Hines and Chris Olmsted will be our Contest Directors, Tom Myers will be our Chief Judge, AJ Wilder will be our Volunteer Coordinator, Katie Ganzer will be our Registrar, Bob Olmsted will be our Scorer, Colleen Keller will be our Safety Director and Andy Slatkin our Starter. What a team!!
THE TENTATIVE SCHEDULE:
Thursday, April 30th
1000 -- Sunset-- Registration open; box open for practice
1800-- Dinner & drinks on site
Friday May 13th
0700-- Mandatory contest kickoff briefing for all pilots, all categories.
0900 – 1700-- Contest flying -- Advanced, Unlimited, Intermediate, Primary,
and Sportsman KNOWN flights followed by FREESTYLE flights. Distribute UNKNOWN sequences.
Saturday, May 14th
0700-- Mandatory daily pilots' briefing - all categories
0800 until competed -- Contest flying -- all categories. Finish the FREES, Fly the UNKNOWNS and then the 4 MINUTE FREES!!!!
1800-- Cocktails
1900-- Awards Banquet
Sunday, May 15th Rain Date
0800 Mandatory daily pilots' briefing
0930 - 1400 Contest flying -- all categories. Finish all the flights
Late Arrivals - we will do our best to accommodate late arrivals. If you can not be present for the Friday mandatory contest kickoff pilot briefing, please send the Contest Director or the Chapter President an e-mail before the contest. Pilots who do not communicate with the contest director prior to the contest, and who arrive after all categories have flown the Known
Programs, WILL be assessed the points penalty provided for in the IAC Official Contest Rules 2010 (4.6.1(a)(2)).
MAINTENANCE
Midfield Aviation has a maintenance facility on the field and has proven to be a help in the past.
LODGING
Red Roof Inn, Victorville
Green Tree Inn, Victorville
Hilton Garden Inn, Victorville
Courtyard by Marriott, Hesperia
TRANSPORTATION
There are no car rentals at APV, but Hertz will provide drop-off at the airport., rides with many local supporters are available as well.
DINING
The Hang Out Cafe is open 8am daily for breakfast and lunch. Located in the terminal building. We will also have bag lunches available for contestants and volunteers.
Also there are plenty of good eats to find for dinner near by the hotels.
BANQUET
The banquet will be held Saturday evening at 6:00 pm. for cocktails and 7:00pm location to be announced.
WHAT TO BRING
All of the aircraft and pilot docs that you need to bring may be seen in the Competitor Checklist on the IAC web site in the members section. https://www.iac.org/legacy/aerobatic-contest-checklist
Airport Info.: https://www.airnav.com/airport/KAPV
CAUTION: The aerobatic box is west of and directly adjacent to runway 18-36
PLEASE DO NOT OVER FLY THE AIRPORT BELOW 5000 AGL'!
CONTACT INFORMATION
Chris Olmsted- LA Aerobatic Club President/ Contest Director
831-334-7232 Chris@OlmstedAviation.com
Terry Stover Airport Manager
760-247-2371