Arizona Aerobatic Club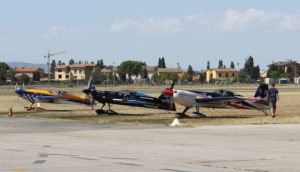 We have a membership of over 50 aerobatic enthusiasts, a third of whom compete in competition aerobatic events. Members are located in the Phoenix area, with many members living in other parts of the United States.  We are all members of the International Aerobatic Club.
Our club's mission is to encourage, aid and engage in aerobatic development and education; for the improvement of and a better understanding of aviation and the art of aerobatics; and to promote and encourage aerobatic competition
Some of the best pilots in the United States are members of the Arizona Aerobatics community, including the 1997, 1998, 2002, 2003,2004,2005 and 2010 U.S. National Unlimited Aerobatic Champions and the 2002 and 2003 National Advanced Champions. The Phoenix Aerobatic Club has won the IAC National Chapter award three times, in 2000, 2002, and 2003.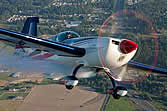 We are from all walks of life, and we share one thing in common; the love of aerobatic flying and the desire to promote this form of aviation in a safe, responsible and fun manner.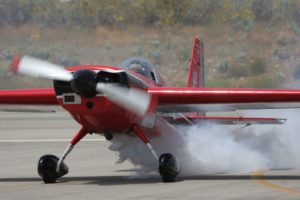 Are you interested in finding out what it is like to fly competition aerobatics? Phoenix Aerobatic Club member, George Norris, has written an informative article on competition aerobatics in the Phoenix area. Aerobatic Arizona! contains information on how and where to get started in competition aerobatics.